Most of us will have had experience with realtors Greensboro, selling a house, and relocation. But I don't think many of us had to carry out the colossal move that the singer and actress Ashlee Simpson has had to go through. When she listed her 7,100-square-foot villa in the Beverly Hills Post Office area for $3.69 million in spring of 2011, realtor.com posted 20 photos of the fabulous Mediterranean style house on its website. With five bedrooms, six and a half baths, a pool and spa, media room, meditation room, and breath-taking views of canyons, mountains, and greenbelts, the listing was sure to go fast. Other people in Ashlee's position may not want to sell their home through a realtor and will need help in achieving that. Websites like getfairhomeoffers.com can advise you on how you can sell your California home without a realtor, cutting out the middleman.
Not surprisingly the listing agent, Sotheby's International, reported the house had sold by June 2011 for $3.475 million, not too far off the asking price in a slow real estate market. While we're sure the meditation garden and gourmet kitchen had plenty to do with the quick sale, what really attracted us about the photos of Ms. Simpson's home were the many and varied uses of wrought iron. From the railing on the second-floor balcony to lighting fixtures and accent pieces, wrought iron is a repeated decorating theme throughout the home.
On the patio, for example is a sweet wrought iron table and chairs. For a similar look, consider the Waterbury Ice Cream Table from Timeless Wrought Iron. This hand-forged table features gracefully curving branches to hold the tabletop, giving it a light look that belies its sturdiness. Pair the table with the Courtyard Bench, which features twirly iron across the back and a seat that is gently curved for comfort no matter how long you linger.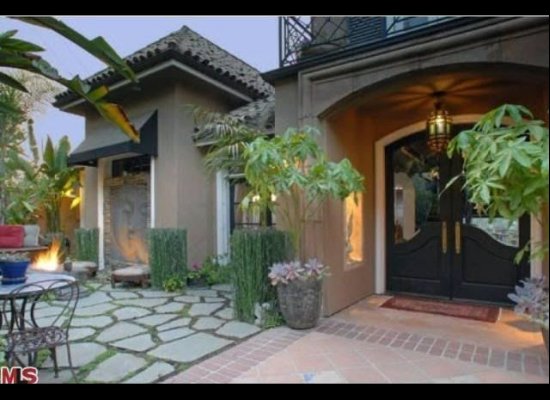 The wrought iron chandelier Simpson used in her room of all-white furniture is another piece that's easy to replicate, thanks to Timeless Wrought Iron's wide selection. Just check out the Arizona Chandelier, which features the same shape and similar sort of open work around the base.
The bold beams in the cathedral ceiling are real eye-catchers in the living room of the Beverly Hills House, but our eyes were drawn to the lantern-style sconces, another wrought iron element. For a similar bold look – necessary in a room with so much volume, thanks to that cathedral ceiling – we'd suggest the Williamsburg Wall Sconce with Candle Drip Cover.
For smaller rooms, Timeless Wrought Iron offers more delicate-looking options, such as the Leaf Sconce, that make a bold statement without being quite so bold.
A crackling fire in the photo of Simpson's living room makes the space seem even more inviting. And where there's a fireplace, wrought iron is the traditional – and sensible – choice for accessories. We think the Arch Tool set by Enclume, or the Complete Hearth Rack with Tools, would be the perfect way to keep logs and tools handy in this spacious room.
Photo Credit: Realtor.com