Exemplary actor-screenwriter-director Woody Allen boasts a repertoire of remarkable films all throughout his more than five-decade career. Best known for the films Annie Hall, Play it Again Sam (movies that bank on his signature neurotic characters), and the critically acclaimed The Purple Rose of Cairo, Allen has also done little-known, unexpected films like Everyone Says I Love You—a musical comedy set in '90s New York.
In Everyone Says I Love You, the main characters live in a posh Park Avenue penthouse accented with wrought iron trimmings in every area. Along the kitchen hallway, barstools reminiscent of South Fork Branch Counter Stool offered by the Timeless Wrought Iron add quaintness to an otherwise forgettable space. The chairs go well with the chandeliers with wrought iron details dangling from the ceiling. In decorating your home, remember that even small spaces deserve great furnishings.
Adjacent to the kitchen is the grand, carpeted staircase highlighted by a pair of dramatic sconce lighting. Even if your own staircase isn't as fabulous as the one in the film, you can amplify its sophistication by installing Williamsburg Wall Sconce with Candle Drip Cover and some framed artwork on both ends of the staircase. Your home, however simple, can look glam with a few décor tricks!
The movie's other locations include a romantic home in Italy—the love nest of the characters played by Allen and Julia Roberts.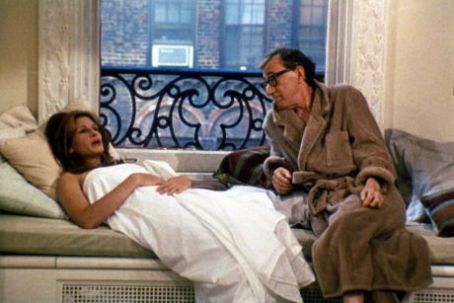 In one of the scenes there, the couple is seen sharing a lighthearted moment on a daybed set against a backdrop of an exquisite wrought iron balcony. Smitten with the pattern? Recreate it on your own home with the Rectangular Wall Art Style 199, which you can use to emphasize an accent wall in lieu of a painting or framed pictures.
Meanwhile, Allen's most recent film, Midnight in Paris, for which he won the best original screenplay plum in this year's Oscars, is also set in a European city. The nostalgic Gil Pender, endearingly played by Owen Wilson, finds himself transported back in 1920s Paris every midnight, and he meets literary luminaries such as Gertrude Stein, who lives in cozy abode filled with precious artwork and wrought iron furnishings.
Amid a background of stylish wrought iron tables—which look a lot like the Alexander Console Table and Cedarvale Bar Table—Gil admires Adriana for the first time.
Tall During daytime, however, Gil is back in the present-day Paris with his fiancé, Inez. One time, he drags himself on a thrift shopping errand with Inez and her snooty mother. Many shops seen there sell furniture—a console table with a magnificent wrought iron pattern, in particular, catches Gil's eyes. This particular table shares a resemblance with Piney Woods Cocktail Table, which is also every inch an eye-catcher. A console table as beautiful as this would look great in a foyer or entryway, where it would serve as a welcoming sight to anyone who walks past the front door. Top it with a edited selection of décor, or even lamp. You can further dress it up by hanging a mirror with wrought iron frame above it.

Everybody Says I Love You and Midnight in Paris are only two of Woody Allen's movies with a production set that's worth noting. Who says books and magazines are the only sources of interior design inspiration? You can watch a movie and learn a decorating tip or two, as well.
Photo Credit: Metro-Goldwyn-Mayer, FanPix.net, Collider.com, Jeff Goins